The Basics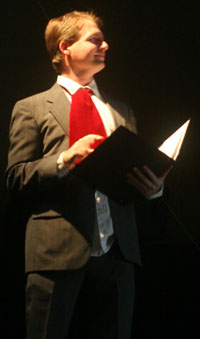 Name: Mike

Nicknames: Mike the Mac Geek

Join Cast: December 2008

Roles Played: The Criminologist; Dr. Scott; Trannies

My favorite obsession is: My Favorite Obsession, of course!

Oh, and pie. I just -love- pie! Sweet, delicious pie.

Mmm... pie.

How do you like spending your free time? Confessing it here might upset the kiddies. This is a family Web site, after all!

Less-offensive or -salacious activities include reading, writing, watching movies, political discussion and debate, and providing low-cost or free computer tech support to all of my MFO cronies. Those cheap bastards.

Special Talents/Quirks: I have forgotten more about computers, than most of you will ever know. I speak passable Spanish. I play the harmonica reasonably well. I'm told that I'm nicer than most, and generally a great guy.

And I'm absolutely freaking awesome in the sack. If you've ever heard about the Heavens opening, the Angels weeping, or the Bombs going off... well, that was probably me.

Tattoos/Piercings: None yet. -Maybe- will get one in particular someday, but it's not looking likely at this point. It's a long story.

Favorite Quote: "I drank what?" --Socrates

Celebrity Crush: Do I have to pick just one?!?

Hmm. It's a reasonable toss-up between Jennifer Connelly, Alicia Witt, Rachel Weisz, Kate Winslet, Jessica Biel, and (perhaps) Scarlett Johansson. Basically, it comes down to intelligent, engaging women that don't feel like they have to look like little sticks or waifs to be attractive. Curves are nice, dammit! (Note that Megan Fox and/or Angelina Jolie are intentionally absent from this list - yuck.)

What's your favorite part about being on cast? The financial security my huge acting salary has afforded me. And the vivid imagination my participation has inspired in me.

What do you have the most fun doing at the show? Deflowering virgins, of course!

Oh wait, you meant "on stage" - in that case: showing people the dance steps, having an excuse to run around like an idiot for hours at a time, and generally being a complete dumbass in public.

Favorite Themed Show: I can only recall the Rocky Horror Toga Party, so I suppose I'd have to go with that one. Sadly, I missed the one where everyone dressed up in drag.

Favorite Pre-show: Party Monster at Halloween 2009, followed closely by the Dancing Jailbirds from Chicago (or whatever the Hell they actually called it) in November 2008.